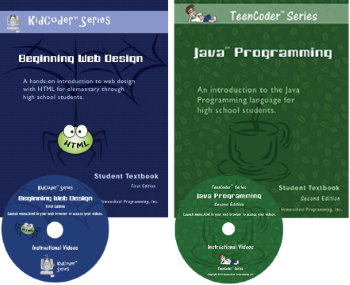 Since 2008, CompuScholar (as Homeschool Programming, Inc.) has been a leader in computer science education for homeschool students. We started with printed textbooks and video CDs and introduced our online delivery format in 2015.
As of January 1st, 2017, all printed textbooks have moved to "OUT OF PRINT" status. What does this mean if you have a printed textbook or still want to buy one?
All printed textbooks and CDs are still FULLY VALID. The content is still technically accurate and the software has been tested on all versions of Windows (7, 8, 10).
All printed textbooks and CDs are still FULLY SUPPORTED. Whether you have a printed course now, or are considering purchase while supplies last, we still provide fast, free technical support.
Getting Started with Printed Textbooks
Click here to read our "GETTING STARTED GUIDE" for printed textbook courses...
...to help answer questions like:
What comes with my printed course material?
How do I get help?
How do I view Instructional Videos?
How do I manage Student and Solution Files?
How do I run the course setup program?
What are all these file types I've never seen before?
Installation Pages for Printed Textbooks
Each textbook course contains a "Student Menu" that will direct students to online instructions for downloading and installing all required course components. Click on the link below to visit the installation page for each of the four printed textbook course tracks.
KidCoder: Web Design Installation Page
KidCoder: Visual Basic Installation Page
TeenCoder: C# Installation Page
TeenCoder: Java / Android Installation Page
Help for Instructional Videos
If you have difficulty playing back any instructional video, especially if you see Loading..., Connection Errors, Spinning Circles or Hangs, please visit our Help with Videos page for detailed instructions.
Where to Find Printed Textbooks
If you missed our closeout sale, and still want to purchase printed textbooks, you may be able to find some remaining stock at one of our channel partners. The following partners (in alphabetical order) have carried the printed components in the past and may still have some in stock:
Search for "KidCoder" or "TeenCoder" at these outlet web pages.
Errata Pages for Printed Textbooks
Please visit our Textbook Errata Page for the latest corrections and additions to the printed material.