Return to the main Help with Videos page
The troubleshooting steps below apply only to our printed textbook videos that come on a CD in Flash format.
If you are using Safari version 6.1 or above, you may experience difficulty when viewing certain videos that contain a "screencast". These videos show recorded demos of a programmer interacting with the software on a computer. This could result in a screen like the one shown below: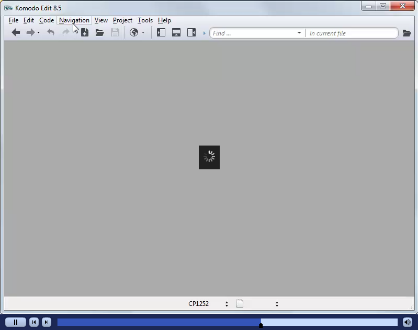 Some versions of Safari include security restrictions that may result in the inability to play screencasts (MP4 video files) from the lesson video. To fix this, follow these directions:
From your Safari software, choose "Safari" from the top menu and choose "Preferences".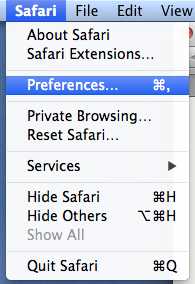 On the Preferences screen, choose the "Security" tab and then click on the "Manage Website Settings" or "Plug-in Settings" button.

On the next screen, for your Adobe Flash Player plug-in, click on the drop down box next to "Local Documents" and choose "Run in Unsafe Mode".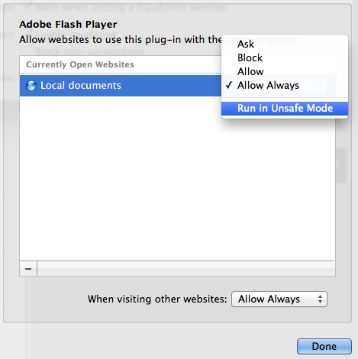 On newer versions of Mac OS X, you may only see options for "Ask", "Off", and "On". If this is the case, press the Option button on your keyboard and then click on the drop down menu. This will show additional options for this setting. If there is a check mark next to "Run in Safe Mode", make sure to click and remove this check mark!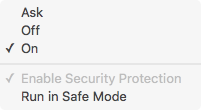 When you are asked if you want to run the "Adobe Flash Player" in "Unsafe Mode", click on the "Trust" button. Our videos do not access any files on your computer!

This will ensure that your videos with screencast (MP4) demonstrations play correctly in your Safari browser. This change will only need to be done ONCE to fix the problem.
Using Other Browsers
If you are not comfortable with running Adobe Flash in Safari in "Trusted" mode, you can choose to view the videos in any other major web browser such as Mozilla Firefox or Google Chrome.