Return to the main Help with Videos page
The troubleshooting steps below apply only to our printed textbook videos that come on a CD in Flash format.
If you are using the Google Chrome web browser to view the videos, you may experience difficulty when viewing certain videos that contain a "screencast". These videos show recorded demos of a programmer interacting with the software on a computer. Some Google Chrome browsers include a non-standard, Google-supplied version of the Adobe Flash software. This non-standard Flash player unfortunately contains bugs that can prevent the replay of "screencast" videos.
The following suggested changes will temporarily disable the Google version of Flash and will re-enable the standard Adoble Flash software. You can reverse these steps at any time to revert back to the previous Chrome configuration.
The Google Chrome "PepperFlash" player is installed as a "plug-in" to the browser. You will need to bring up the "Plug-ins" screen in order to disable this player. To do this, type "chrome://plugins" into the search bar at the top of the screen, as seen below:

Once you press "Enter" after this line, you should see a screen like this: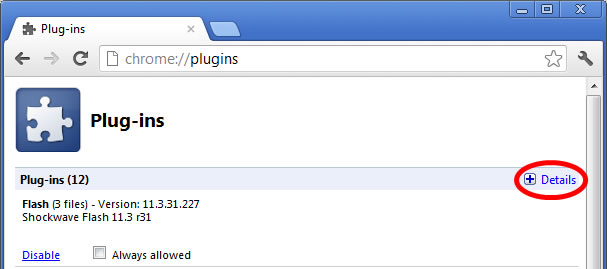 Notice the "Details" plus-sign in the top right corner of the screen. You will need to click on this plus-sign in order to view the different files associated with the Flash plug-in. Once you click on this button, you will see the screen below: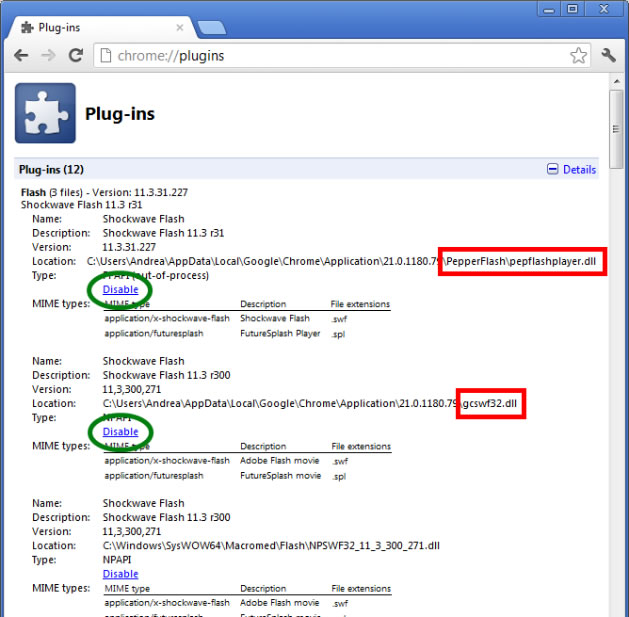 You should see three files listed under the Flash plug-in. You will need to disable the "PepperFlash" file and the file named "gcswf32.dll", by clicking on the appropriate "Disable" link as noted above.
After you have made these changes, your Plug-ins screen should look like this: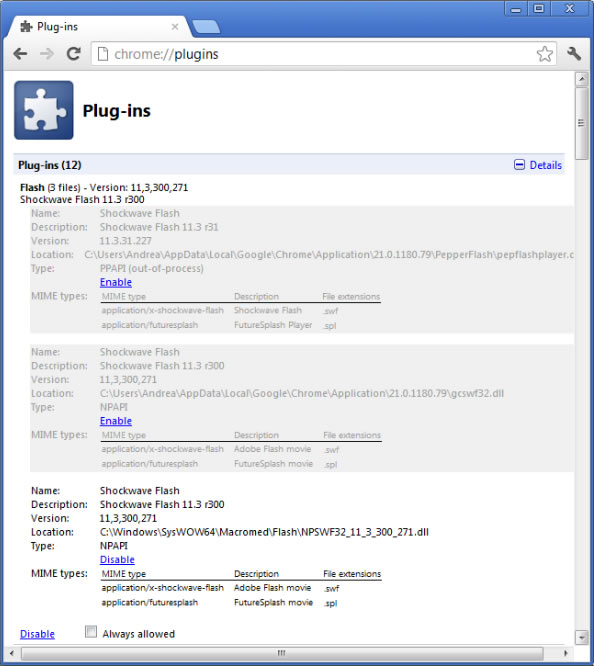 When finished, close and re-start your Chrome browser. You should now be able to load the Instructional Videos and view your screencast demonstrations with no problems.