Return to the main Help with Videos page
The troubleshooting steps below apply only to our printed textbook videos that come on a CD in Flash format.
If you are using Internet Explorer, when you first run the "menu.html" from your disc you may see a warning like this: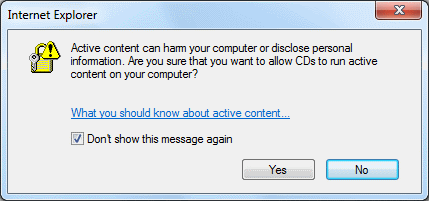 Ensure the "Don't show this message again" is checked and then click "Yes". If you do not allow active content to be run from your disc, then the simple JavaScript used to open the videos in a pop-up window will not work
If you see this information bar at the top of your Internet Explorer window, then you will need to manually allow JavaScript to run from your CD, otherwise you will have to "Allow Blocked Content..." on every video.

To fix your Internet Explorer security settings to allow scripts from CD, select "Tools" and then "Internet Options" or click on the gear icon from your browser menu to bring up the "Internet Options" dialog. Then click on the "Advanced" tab. Scroll down to the Security settings and make sure "Allow active content from CDs to run on My Computer" is checked and then click the "Apply" button.

Some versions of Internet Explorer may still have subtle security restrictions that may result in odd playback behavior. You may experience blank screens when launching a video or inability to cleanly change screens within the HTML menu system. If so, any one of the following steps will resolve most known issues (try each step until replay is successful):
Ensure you have installed the latest version of Adobe Flash player


Try launching the "menu.html" main page by right-clicking on the file from Windows Explorer and selecting "Run As Administrator".


From your Internet Explorer toolbar, select "Tools" or click on the gear icon, and then select "Internet Options". Click on the "Security" tab, the "Internet" zone, and then de-select the "Enable Protected Mode" checkbox. Click OK and then restart your IE browser.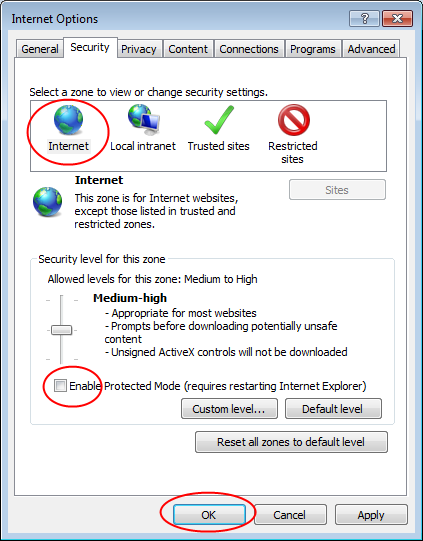 You can avoid some security issues by copying the entire disc contents to a location on your hard drive (e.g. "C:/TeenCoder/Windows Programming/ videos"), if you have enough space. Then run "menu.html" directly from your hard drive by double-clicking on it from Windows Explorer.


You can download and install the Firefox browser from www.mozilla.org to avoid IE security complications.