---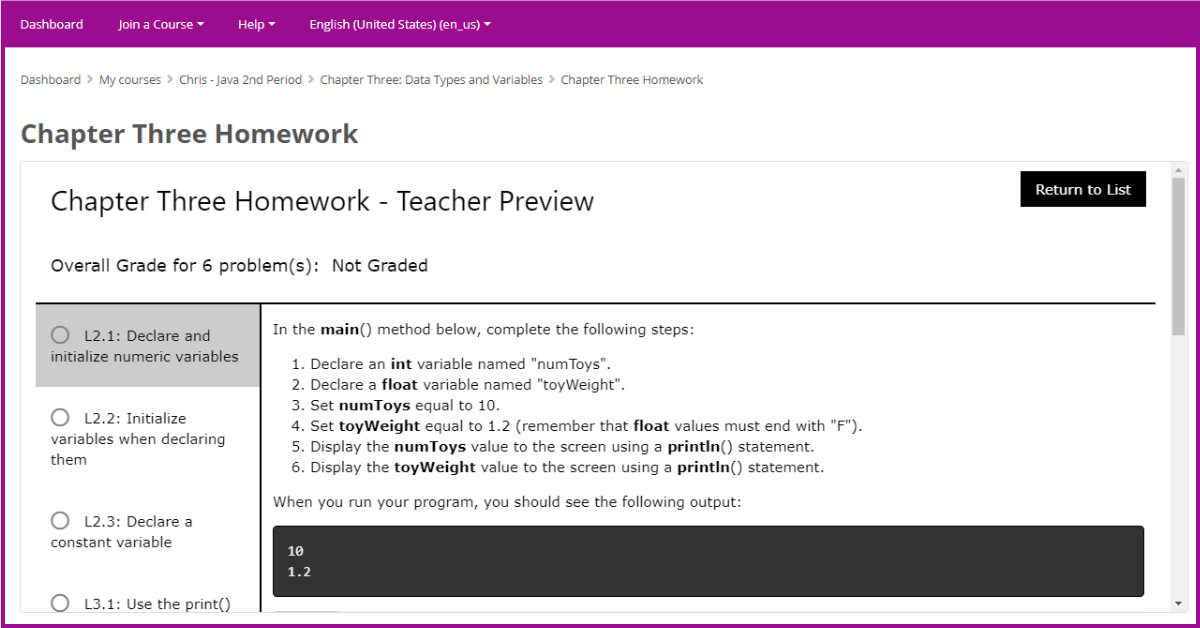 We are pleased to announce a new assignment engine to support additional student work in an online environment. In 2021, our Digital Savvy and Java Programming courses are taking advantage of this new feature.
Overview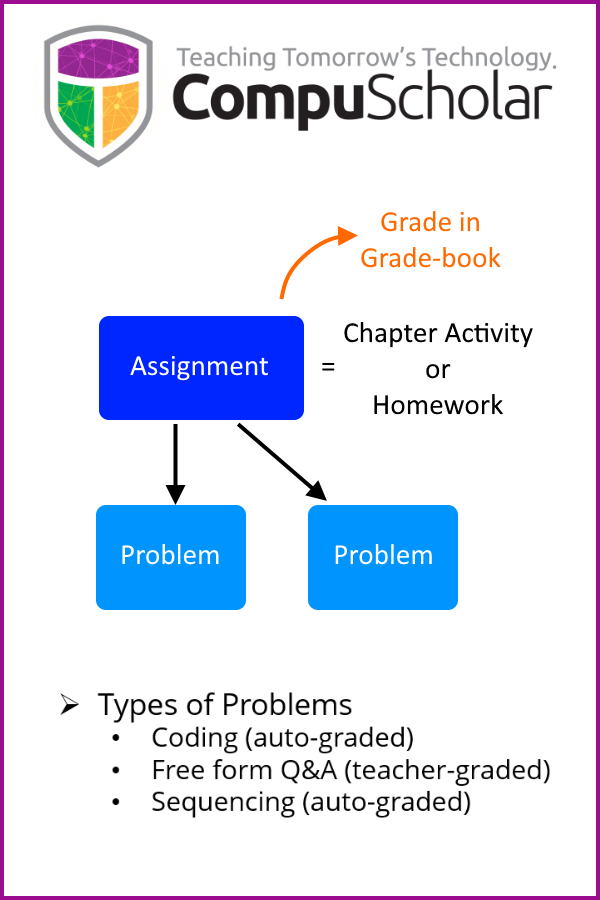 Our new online "assignments" may take the form of graded chapter activities or homework exercises. One "assignment" has one or more "problems". There are several types of problems:
Coding (auto-graded)
Free response Q & A (teacher-graded)
Sequencing / Drag & Drop (auto-graded)
More types of problems may be added over time!
Digital Savvy - Online Activity Completion
Early chapters (1-8) in Digital Savvy ask for free-form student answers to a number of questions. In previous years, we provided a fill-able PDF that students could download, modify, and then submit to the teacher for grading.
Our new assignment engine replaces those fill-able PDFs with a simple, online question and answer form that can be answered and submitted directly to the teacher from a web browser. Students no longer need to mange local files for these chapter activities.
When teachers receive the student answers online, they can easily assign a grade using a sliding point scale. This new online submission and grading approach should simplify the logistics of answering free-form questions and applying a teacher grade to those answers.
Java Programming - New Homework Exercises
Each chapter in our Java Programming course now has additional homework exercises. These exercises use our new assignment engine to support online student coding and automatic grading.
Work with Me exercises within the lessons remain as easy, confidence-building exercises that are not saved, submitted or graded. The homework exercises offer that next level of challenge to help prepare students for the chapter activities.
By default, the homework grades are assigned 0% weight in the grade-book, so the additions will not impact student grades. Public/private school teachers can, however, opt to weight those homework problems as part of the overall course grade.
For More Information
Check out our September, 2021 Professional Development Webinar - "CompuScholar's New Assignment Engine" - for further discussion and a video walk-through of the new additions. As always, please Contact Us if you have questions!