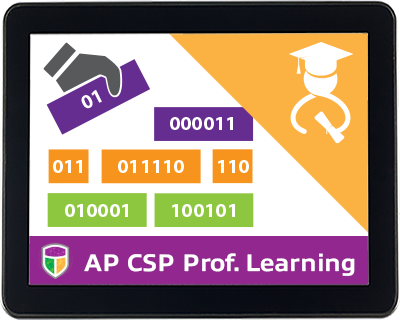 CompuScholar's Computer Science Foundations curriculum is endorsed by the College Board as a high-quality instructional resource for AP Computer Science Principles (AP CSP). We are pleased to offer this FREE Professional Development program for any teacher planning to teach AP CSP using our Computer Science Foundations curriculum.
Our free AP CSP Professional Learning is a self-study, self-paced, online experience that can be completed in about 10 hours. Topics include:
Understanding the official AP CSP "Course and Exam Description"
Learning about the AP CSP exam format and scoring
Teaching AP CSP with CompuScholar's online curriculum
Completing the AP CSP "Course Audit" with the College Board
Integrating "AP Classroom" resources into your school year
Read the Full AP CSP PL Course Syllabus (PDF)
Teachers can get started at any time, complete the learning as schedules permit, and refer back to the PL resources for a full year. A small stipend is provided for teachers who successfully complete the course and the College Board's Course Audit with CompuScholar!