---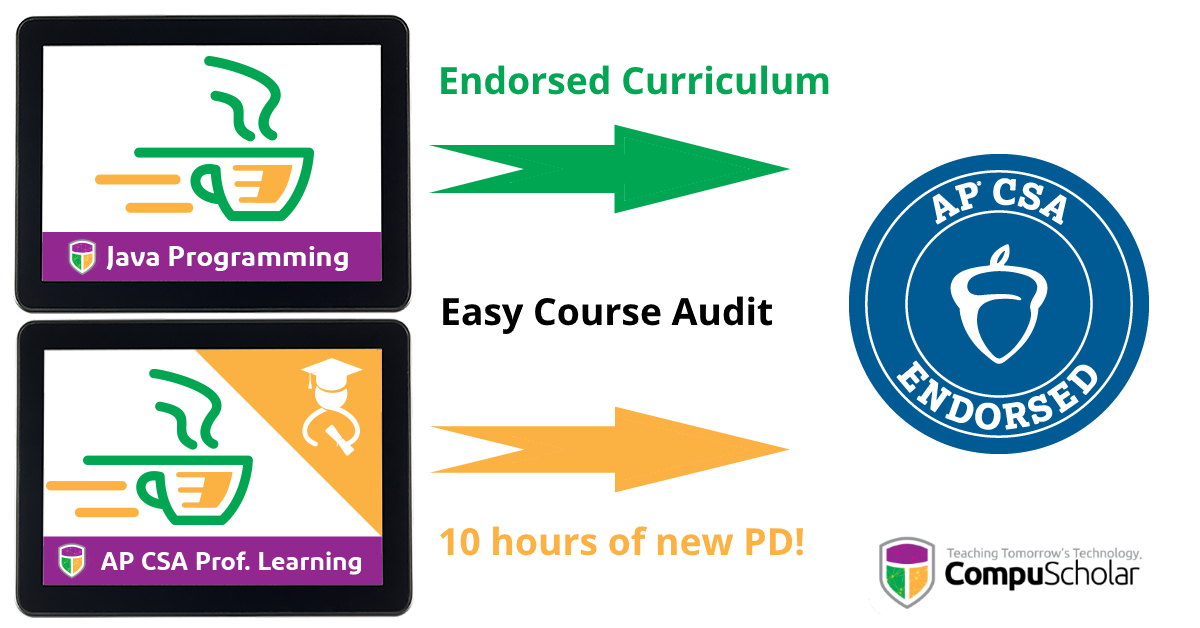 CompuScholar's Java Programming curriculum is now endorsed by the College Board for AP Computer Science A. What does it all mean? The same great curriculum is now easier to select during your Course Audit and you now have an additional free AP CSA Professional Development opportunity!
ENDORSEMENT ANNOUNCEMENT
From the desk of the College Board:
"CompuScholar is recognized by the College Board as an endorsed provider of curriculum and professional development for AP® Computer Science A (AP CSA). Using an Endorsed Provider affords schools access to resources including an AP CSA syllabus pre-approved by the College Board's AP Course Audit, and officially recognized professional development that prepares teachers to teach AP CSA. This endorsement affirms only that components of CompuScholar's offerings are aligned to all the AP Curriculum Framework standards and the AP CSA assessment."
Simply stated, using an endorsed provider, like CompuScholar, gives you confidence that a curriculum covers all parts of the AP CSA exam requirements.
ARE THERE ANY CHANGES TO THE JAVA PROGRAMMING COURSE?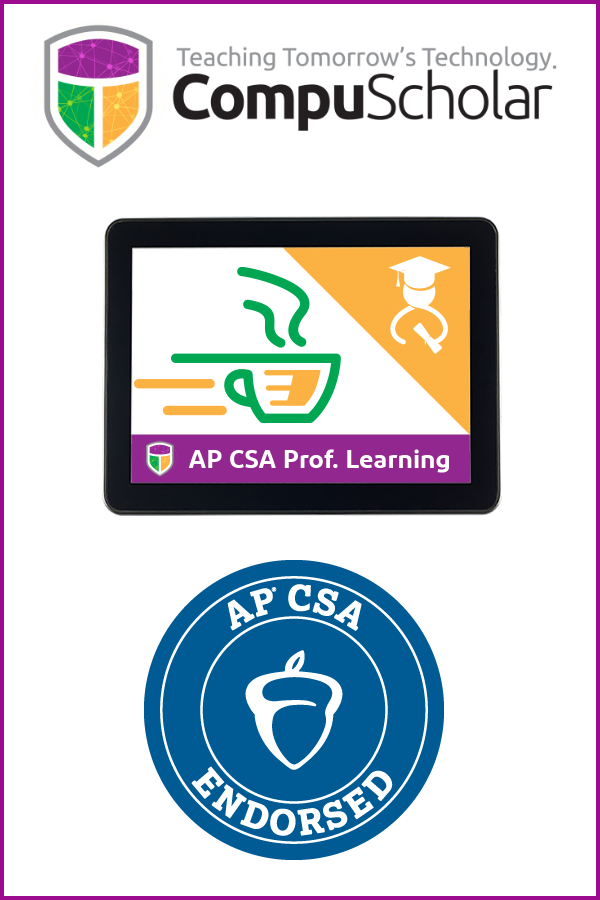 There are no big changes to the Java Programming course; the endorsement review confirmed it is aligned to the Unit Sequence and covers all required Java and Computer Science skills.
We have added a few new links and enhanced some of the teacher material as follows:
Chapter 1 has gained 3 new introductory links:

"Welcome to the Java Programming Course"
"Student Guide to Preparing for the AP CSA Exam"
"Teacher Guide to Preparing for the AP CSA Exam"

Teacher Guides (per lesson) have gained new notes on integrating AP Classroom content
Activity Solution Guides have gained new citations for AP CSA Learning Objectives covered by the lab
Teachers can request a free review account at our Getting Started page:
WHAT'S NEW IN THE COURSE AUDIT?
Previously, we published a Java Programming course syllabus that had been reviewed by the College Board and given an approved syllabus#. Teachers could then "claim identical" to that syllabus# as part of the Course Audit.
Now, using an endorsed provider, you no longer need to "Claim identical" to a syllabus#. Simply select the endorsed provider option during the Course Audit and select CompuScholar's Java Programming curriculum from the endorsement list.
Our syllabus has not changed in any significant way; it is now simply automated as part of the endorsed provider list.
NEW AP CSA PROFESSIONAL LEARNING
The biggest change as part of our endorsement is a new AP CSA Professional Learning opportunity! New and existing AP CSA teachers can sign up for our FREE AP CSA Professional Learning course. This mini-course is self-study, self-paced, online, and can be completed in about 10 hours at your convenience. We know teachers are super-busy and want to ensure your success with Java Programming in an AP CSA classroom with schedule-friendly PD.
AP CSA Professional Learning topics include:
Learning about the AP CSA CED
Computational Thinking Practices, Skills, Big Ideas
Unit Sequence and Unit Descriptions
Planning the Course
CompuScholar System Overview, Lessons, Homework, Labs, and Assessments
Teacher Registration and Course Audit with the College Board
Setting up and Using AP Classroom
AP CSA Exam Contents, Format, Question Types, and Weighting
Check out the AP CSA Professional Learning Syllabus for more course details. Teachers who complete this mini-course and select CompuScholar as their endorsed provider will receive an Amazon gift card as a reward!
Register and get started today by selecting "Prof. Dev." and then "AP CSA Professional Learning" from the top menu at www.CompuScholar.com, or click here to hop directly to the PL description page.
FOR MORE INFORMATION
Check out our March 2022 Professional Development Webinar - "AP CSA Endorsement and Professional Learning" - for further discussion and a video tour of the new AP CSA Professional Learning course. As always, please Contact Us if you have questions!